As the Cybersecurity Maturity Model Certification (CMMC) standard approaches in 2024, A&D organizations are feeling the pressure to meet compliance goals with their existing technology systems.
Many of these organizations have experienced rapid growth over the past 5, 10, or 15 years, which has led to a reactionary approach to adopting technology. This often results in the implementation of information silos, where data is isolated in single-source systems. While effective, these silos may not fulfill all requirements, leading manufacturers to consider integrating their systems with their ERP.
Ensuring compliance should be the top priority, and it's essential to ask three key questions:
– Does your ERP system meet compliance requirements?
– Does your current system meet compliance requirements?
– Is there an integration path that can meet compliance requirements?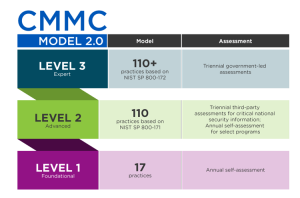 Assuming a positive response to the above questions, several factors must be taken into account when deciding the best integration approach:
1. Assess business needs and identify if the new system can enhance ERP capabilities, improve efficiency, and streamline processes.
2. Determine compatibility with your existing ERP infrastructure to ensure seamless data exchange.
3. Conduct a cost-benefit analysis to evaluate the potential ROI of the integration.
4. Assess how integration might impact data consistency and integrity across systems.
5. Consider scalability and future growth to ensure a sustainable long-term solution.
6. Evaluate user adoption and training requirements for a smooth transition.
7. Assess the vendor's capabilities, reputation, and expertise in integrating with ERP systems.
By carefully considering these factors and seeking input from relevant stakeholders and technology partners, a well-informed decision can be made regarding the integration of a new system into the ERP.
Cre8tive Technology & Design is ITAR certified and can assist you along your CMMC journey. Get in touch with our expert team to learn more!