ERP in Industrial Equipment Manufacturing: Rise of the Machinery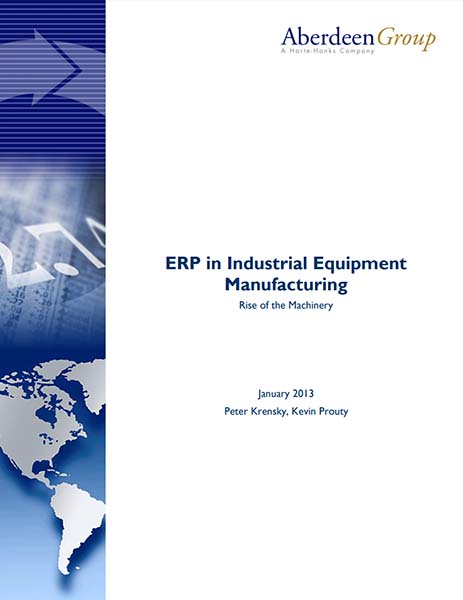 Learn More About ERP for the Manufacturing Industry
Enterprise resource planning (ERP) software isn't exclusive to manufacturing. However, it offers a uniquely powerful value to companies in this critical and diverse field.
ERP software for the manufacturing industry brings together nearly all aspects of operations, creating a truly connected organization. It's a solution designed to empower decision-makers with information. ERP makes complex choices easier and holistically improves the company as a whole.
This Sector Insight whitepaper from global marketing and intelligence firm Aberdeen Group can help you make the most of ERP. It includes the results of a survey of top industrial equipment manufacturers that have shown proficiency in getting results from ERP.
Finding the best ERP for the manufacturing industry means identifying best practices alongside the most relevant software solutions. Download our whitepaper to find relevant, industry-specific guidance. It can help your company get the most value out of its ERP for industrial manufacturing.
The Benefits of ERP Systems in the Manufacturing Industry
ERP has an incredibly wide range of benefits. That comes in part from the intent of this solution. Specifically, to connect all parts of a company and make crucial data and developments clear.
The broad advantages of ERP also stem from its deep customization capabilities. The right ERP implementation process can tailor the solution to the needs of an individual business. Add-ons and ERP modules for the manufacturing industry also extend the functionality of ERP to meet specific requirements.
With those foundational factors in mind, let's review some more functional benefits of ERP in the manufacturing industry:
Automation of manual business processes. ERP can automate many different tasks that would otherwise need to be completed manually. That means less time spent on time-consuming, repetitive work and fewer chances for human error. Instead, staff can focus on more complex, time-sensitive, and value-generating work.
Real-time business insights and intelligence. Want to look into an emerging problem as it happens? Seeking out specific data about the shop floor, excess inventory, sales, raw material ordering, or any other function? ERP solutions make it easy to access data and report about your organization.
Enhanced customer service. Through automation, record-keeping, notifications, and more, ERP supports better customer satisfaction. Sales staff, production management, and other stakeholders are empowered to deliver consistently better results. Additionally, ERP offers information that helps customer-facing staff become more proactive in their relationships.
Improved productivity and quality control. ERP makes managing resources and scheduling production staff more efficient and predictable. The right ERP solution for the manufacturing industry also makes it easier to notice problems in product quality and adjust accordingly.
A single source of truth. ERP makes it easier to manage your business as a whole by bringing together data about nearly all areas of operations. It delivers business intelligence that simply can't be derived from spreadsheets, handwritten notes, and other disconnected sources of information.
ERP Implementation in the Manufacturing Industry
ERP implementation requires a commitment from your organization and buy-in from company leaders. That said, it doesn't have to be an overwhelming or complex, time-consuming process.
Finding the right ERP for the manufacturing industry is critical in this regard. Larger businesses have a range of options. They often have the resources needed to manage major changes and invest in transformative technologies.
For smaller companies, like machine shops, finding effective ERP solutions may seem difficult. Thankfully, that's not the case. ERP designed for the unique needs of smaller manufacturers is both available and effective.
Cre8tive Technology and Design offers a turnkey ERP solution with a streamlined implementation process. It sets smaller organizations up for success with advantages like:
A fixed cost that's managed through a subscription instead of a large upfront payment
A 8-12 week go-live timeline designed to get your company's focus back on the manufacturing process and customer satisfaction
Aerospace and defense (CMMC) ready, for all machine shops working in the A&D space
Training supplied by CTND's own ERP experts
Effective and intuitive dashboards and reporting that make finding and leveraging business information that much easier
CTND helps manufacturers large and small gain better insight into their operations. By developing ERP expressly for the manufacturing industry, we've built valuable expertise. That helps our clients get the most value out of their ERP solutions.
Learn more about key considerations for ERP in manufacturing by downloading this whitepaper, "ERP In Industrial Manufacturing: Rise of the Machines."